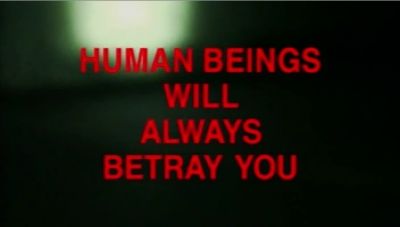 "People often accuse me of being a lefty,,,,"
Since the early 1990s Adam Curtis has made a number of serial documentaries and films for the BBC using a seemingly playful mix of journalistic reportage and a wide range of avant-garde filmmaking techniques. The films are linked through their interest in using and reassembling the fragments of the past—recorded on film and video―to try and make sense of the chaotic events of the present. While Curtis himself is not an artist, many artists over the last decade or two have become increasingly interested in how his films break down the divide between art and modern political reportage, opening up a dialogue between the two. The most recent of these has seen Curtis team up with Robert '3D' Del Naja of Massive attack, connecting the dark, intense music and visual work art of both with the thought-provoking vision of Curtis as a filmmaker in a haunted, captivating production. From the universally rave reviews this partnership has received, it sounds as though the two have genuinely completely redefine the very idea of "the gig". If this sounds like your thing or if your interested in finding out more about Curtis (many may well remember him from early series' of Charlie Brookers 'Screenwipe') and we encourage that you do, then grab your thinking cap, settle down, and enjoy some time with of one of the UK's most revelatory filmmakers. A good place to start, and my personal favourite of his work is his 2007 series 'The Trap: What Happened To Our Dream Of Freedom' which covers subjects such as cold war era Game Theory, behaviour modifying drugs, Dawkins' 'selfish gene' analogy as reductionism and Isiah Berlin's concepts of positive and negative liberty.
Curtis' most recent dissection of life in the modern era 'All Watched Over By Machines Of Loving Grace' is another work of almost unparraled brilliance. Shown on BBC 2 back in 2011 this series of three films see's Curtis argue that we have been colonised by the machines we have built. From the dreams of internet Utopians and again he refers back to the "selfish gene" theory of human behaviour and onwards to the Twitter and Facebook revolutions. The films show dramatically how in every case there is an underlying vision of human beings as nodes in networks acting and reacting to flows of information around the system. As usual, Curtis illustrates his ideas by telling an extraordinary range of stories, from novelist Ayn Rand's tragic love affairs to the dreams and the frightening reality of the hippie communes, to the brutal politics of the Belgian Congo. In an age disillusioned by politics, this machine ideology seemed to offer a new way of ordering the world. But the shift in ideologies has come at a very high price – the idea that progress and political struggle can change the world for the better.
All watched over by machines of loving grace
from
mayo11
on
Vimeo
.
Well, we usually try to give you some music to listen to in our posts and in the interests of nothing more than self promotion we decided to whack up a mix I did for the radio show back in January when the show had first aired. Quiet timely actually as the Femi Kuti and Alicia Keys tracks are finally getting full releases now so I guess we'll say that's the reason we've put this particular mix up. Yes, that'll do. X