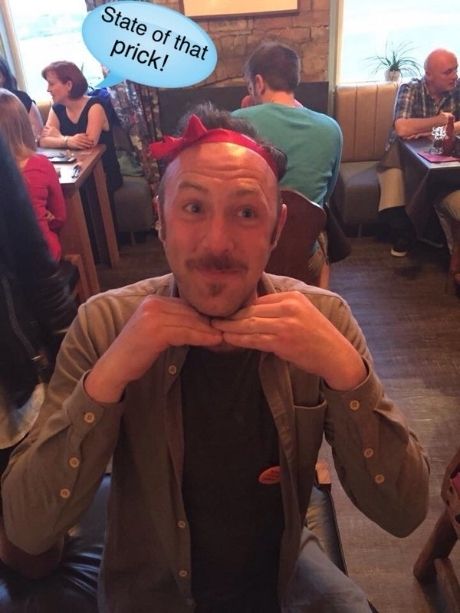 'Round like a circle in a spiral, like a wheel within a wheel
Never ending or beginning on an ever spinning reel
Like a snowball down a mountain, or a carnival balloon
Your favourite bastard Dubble D returns, with his take, on what'll happen soon
'
Aries:
You really loved February, that wanker from work was on the receiving end of a disciplinary. Don't get too cocky though, you're getting one this month. Gross misconduct as well. You'll probably fucking hate March. Mercury will no longer be retrograde in your prestigious career sector. Luck rides a unicycle.
Taurus:
Brexit questions swirl around your confused mind. Is Ian Duncan Smith an economic sage or will you go with the Cam Fam? Bit of a Sophie's choice really. Flip a coin and do the opposite.
Gemini:
This is such a special month for you that you may find yourself singing in the shower and showing a bounce to your step, careful not to slip and smash your head open.
Cancer:
Tinder has stopped working, it's fucked. Not to worry Cancer, it's a glitch in the software not you. Swipe right for a mysterious stranger and a night in casualty.
Leo:
This is a high energy month where you will be able to accomplish a lot and get what you want. That secret basement? Done. Use it for good, ignore the hitchhiker.
Virgo:
The February 22 full moon continues its uncomfortable influence until the March 8 solar eclipse. It's time to take the plunge and get yourself to the clap clinic.
Libra:
A chance meeting at a motorway service station leaves you with more answers than questions but those questions…..just won't ever go away. Ever.
Scorpio:
It's a good time to try a new hobby as the moon is usually out at night. Get yourself a Spinning Jenny and a small child to get mashed up in it. Bang on trend.
Sagittarius:
A skiing holiday in one of the lesser Bulgarian resorts leads to an hilarious tragedy. That said, you came second in the Big Air competition. Swings and roundabouts.
Capricorn:
You can sense Spring in the air. A night out with Simon Heffer, Kelvin McKenzie & James Delingpole and brings horseplay, horror and climate change denial. Choose your company wisely.
Aquarius:
This month the Universe has gone binary on you but it means it -
01011001 01101111 01110101 00100000 01100001 01110010 01100101 00100000 01100001 00100000 01101000 01101111 01110000 01100101 01101100 01100101 01110011 01110011 00100000 01100011 01110101 01101110 01110100
Pisces:
Anger management may become an issue for you in the months ahead with the beginning of an extended Mars transit but the full frontal lobotomy the street kindly chipped in for may help. It's never 100% is it? You will lose a vital part of what makes you, you.
Till next month!
Keep it fucking tight 'n right. Dunford. X