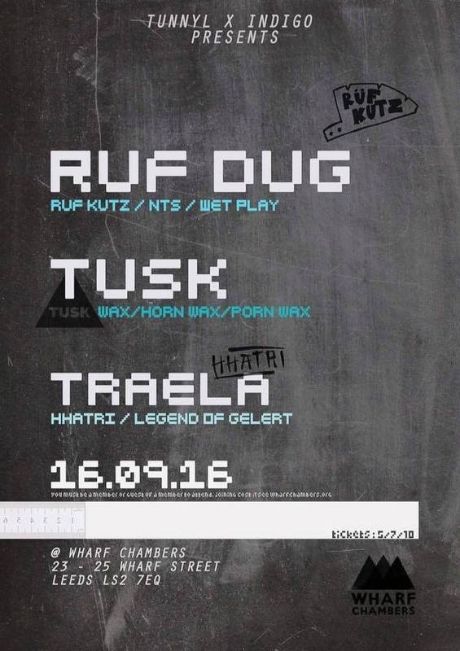 We always like to take a minute to rep any local goings on up here in Newcastle and to say we've been remiss in not banging on about Oli Warriner, one of the main men behind the
Tunnyl Records label and parties
and a producer very much on the up, would be a huge understatement. They've been putting on some brilliant nights here in Newcastle for a good few years now hosting TOLAS alumni like Elizabeth Collective, Irn Blu, Las Waltz and Lizards as well as some very tiy international guests. They've always had a refreshing approach to throwing parties with their ambition being to provide quality music to like minded souls. TUNNYL has a clear vision ... no fuss, no gimmicks just quality artists and music.
Oli has been als been beavering away in the studio all this time and putting out hi own and others records and his new solo project
'Treala'
sees the producer continue his rise and sonic evolution with a trilogy of records to be released on London's
Hhatri
label, this being the first.
The EP was inspired by many of the heavy concepts that have been concurrent in his life during the process of making the tracks. The sounds have adopted elements of the music that have been experienced during his trips to play out in Berlin's unique music scene. Key to the penning of the tracks are the loss of distinctive sounds, expressive emotion and unparalleled feeling that was once so prevalent in many of the lesser known and iconic works produced in the earlier years of House music. Channeling the desire to bring back what has been missing in today's formulaic music production design, Traela hopes to find the listeners, once again, looking inside the content of the music.
Finding the emotional substance displayed through healing and the release of lost love, Traela's message on the making of this release in his own words:
"Many ideas were prevalent during the process of the EP but the most important during this exercise was finding yourself, learning to express and learning to love yourself in order to love others ".
This new alias gets it's first run out next week in Leeds at
Tunnyl x Indigo presents:: Ruf Dug x Tusk x Traela
alongside one of Manchester's finest, Ruff Dug and the elusive ceo of Tusk, Horn & Porn Wax who is also known to smoke a few Rothmans, the titular Tusk. But Oli wont be able to sit resting on his laurels for too long, with gigs in Berlin lined up for November and December as well as all the other Tunnyl related business, it looks like the rest of 2016 is lining up to be tres busy!
Tunnyl x Indigo presents:: Ruf Dug x Tusk x Traela
is next Saturday (the 17th) at
Wharf Chambers in Leeds
and tickets
are available here
as well as a limited amount ion the door.
NB. You must be a member or guest of a member to attend.
Till next time.
Big love. Mark.