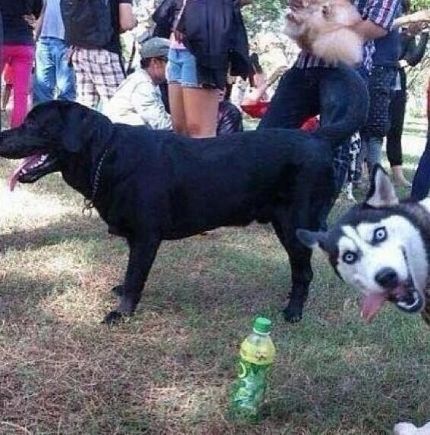 INT: Man's house.
Man: Oi. Dog. Come here.
Dog: Arf…woof!
Man: How original. As you know, I've been working my balls off for a year to keep us living and you in Pedigree Chum. Which by the way isn't fucking cheap.
Dog: Yelp! Grr…woof!
Man: …..yes. Anyway, I'm going on holiday. I picked it out of a hat full of ideas. The Arctic. Sounds nice. Sort of continental. Anyway, while I am off sunning the fuck out of my cock and bollocks, you're looking after the place.
Dog: Yip! Bark…
Man: What I absolutely don't want is to come back to a house that's burned down, empty of my stuff, or covered in shit.
Dog: Howl…
Man: Which means you need to look after it you cunt. Look. I've left the oven on so you can cook some potatoes or something. There are some baked beans as well and the stove's on. REMEMBER TO TURN THE CUNT OFF when they're done. My taxi's in two minutes.
Dog: ARF! WOOF!
Man. Good. Glad we understand each other. Fuck, i'm late. Well, have fun, and don't shit on the furniture, you absolute cockend. (Man walks down the path and leaves the front door open.)
Man: LEFT THE FUCKING FRONT DOOR OPEN SO YOU CAN WALK YOURSELF! Don't forget to CLOSE IT WHEN YOU GET BACK IN!!
Dog: Yelp! WOOF ARF!
Man: (Does wanker sign at dog.) Fuck off, prick. I'm off. Two weeks of sun!
TWO WEEKS LATER:
Man: What a great holiday. I don't think. Who'd have thought the fucking Arctic would be that cold. I should have gone in July, I suppo….FUCK! (The front door is open. Dog shit all over the floor. Man enters the house.)
Man: What the FUCK is this? Where's all my stuff?
Dog: YELP! ARF!
Man: Fucking prick. I TOLD YOU TO CLOSE THE DOOR!!
Fade out to titles.