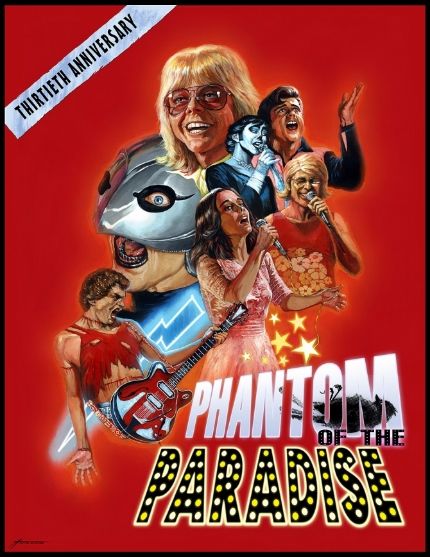 To celebrate the approach of the spookiest day of the spookiest month of the year known as Halloween, we're celebrating some little known cinematic macabre. Specifically at one terrifying number in the cult horror musical, 'Phantom of the Paradise.'
Now you can say what you will about Brian De Palma but hes never been afraid of a long set piece or a challenge. Just a year after 'The Rocky Horror Picture Show' hit the states, De Palma's wildly inventive horror/musical, 'Phantom of the Paradise', was flopping in theaters across America. However, thanks to an unexplained rise in events like 'Phantompalooza' and cult film fans around the world, 'Phantom of the Paradise' is finally getting the recognition it (sort of) deserves.
The original music was written by Paul Williams, a man who's name will be unrecognised by most people but who is not only responsible for writing 'We've Only Just Begun' and 'Rainy Days and Mondays' for The Carpenters, 'Fill Your Heart' for David Bowie but also what is surely his career high the brilliant 'Rainbow Connection' for the first Muppet Movie! All this AND he played 'Little Enos Burdette' in Smokey and the Bandit!!
Anyhoo, 'Phantom Of The Paradise' is essentially a rock version of Faust with twinges of Phantom of the Opera thrown in for good measure. William Finley plays Winslow Leach, a disfigured composer, who has made a pact with Swan, an evil record producer (played by Paul Williams himself), so that he can continue to make music. After falling in love with Phoenix, a budding starlet, Winslow, now known as the Phantom because of his respirator mask, insists she star in his new show.
When Swan chooses stage sensation Beef (Gerrit Graham) over Phoenix for the part, the Phantom seeks revenge and the real horror begins. In a fantastic lip-synch performance of 'Life at Last', Graham embodies evil, owning the stage as he sings, "Do you realize that all of you donated something horrible you hated that's a part of you? I'm your nightmare coming true!"
The audience squirms with anticipation as they watch the Phantom prepare to kill the crooning Beef with an electric lighting bolt straight to the heart. In true control of his craft, De Palma delivers a dynamic and horrific sequence all punctuated by the Phantom's mechanical laugh. Seriously blud, You'll be screaming right along with the crowds in the film.