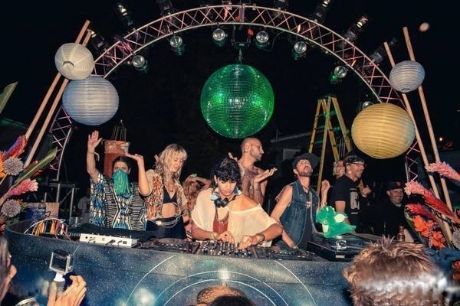 For the second installment in our podcast series we're delighted to be able to bring you an absolutely brilliant mix from one of the shining lights of the San Francisco scene.
'We Are Monsters
' resident, Mozhgan. Draining the fevered sweat from San Frans' underbelly since 2011, the 'We Are Monsters' crew of Solar, Jason Greer and Mozhgan have all been described as a 'best kept secret' of sorts, tag now however that is becoming wholly inappropriate given their current rise. All can now be found playing across Europe's summer festival season with spots at the likes of Dekmantel and Croatia's Garden Party as well as the Sunset Campout parties in California and further afield, serving up top shelf beats ranging from odd disco excursions over analogue jams to cold wave synths and louche Italo and anything that tickles their fancies.
Mozhgan is most definitely DJ who expresses and exercises his/her freedom. Going many places,touching on many genres, telling endless musical stories. For great DJ's, knowing music doesn't mean specialising in one particular style, far from it! It's about creating a trans-generational, genre-unspecific and more versatile sound. A truly cosmic perspective tapping into a wider spectrum of influences. Comfortable throwing together sets which touch base with everything from dub, disco, afro, techno, rock and industrial sounds, it's these ideas that mark Mozhgan out as a truly great selector and the reason we were so happy she so readily agreed to contribute this mix to our series . Anyway, that's enough of our rabbiting on, we highly recommend that you c
heck out her
Soundcloud here
for a bunch of other great mixes too but before then, sit back, press play and t
urn. It. UP. X
Till next time.
Big love. Mark. X