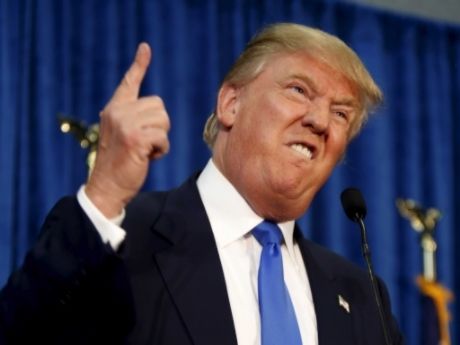 Donald Trump, the business magnate, reality TV star, silly pork faced racist and presidential candidate, died early this morning at his home. He was 69. Trump is believed to have been smothered to death by dachshunds in the custom-built Dog Cube where he slept. He was an enthusiastic promoter of Dog Cubes, stating that most great ideas are formed in high-pressure dog environments.
Trump's official biography gives his birthplace as Successville, Winnersota, which doesn't exist. Although he was educated at an elite military academy, he avoided service in the Vietnam War by claiming to be an endangered peregrine falcon and viciously pecking anyone who tried to get close enough to determine if he was really a bird.
Trump rose to prominence in the business world as proprietor of the 'Donnie T's American Redneck Steakhouse' chain. His restaurants were renowned for everything smelling like chemicals and staff not caring if you got piped off under the table. The chain was forced into bankruptcy after the restaurants were found to not comply with the fire code, particularly the part that says all your restaurants can't be on fire.
He regained his fortune in the 1980s with a lawsuit against the mighty Sony Corporation. Trump told Sony he was "the guy who invented tapes" and "you gotta give me the tape money", a claim which Sony executives now admit they "probably should have checked, it sounds made up".
Television appearances increased Trump's public profile. A noted samurai sword enthusiast, Trump starred in the NBC reality series 'An Acceptable Sword', in which sword makers would present Trump with swords they had crafted and he would dismiss them with his popular catchphrase "This sword is unacceptable".
Trump's fame grew with a bid to be the 2016 Republican presidential nominee using an ancient legal loophole in American law that dictates that anyone with a cameo in a John Hughes film, no matter how much of a twat, can run for the presidential office
He delighted the nation with his campaign antics, including wearing a giant novelty cowboy hat and frequently asserting that Mussolini was "right about basically everything".
Throughout his life Trump cultivated a reputation as a playboy. He claimed to have "banged all the ladies" and responded to questions about whether he'd had intercourse with any particular lady by winking and making the penis-in-vagina hand gesture.
Trump hoped to be remembered for his service to the community, which included knocking the cups out of beggars' hands and writing threatening letters to war orphans. His charitable organisation, the Trump Foundation, is responsible for burying millions of dollars in the desert where, as Trump put it, "none of you sons of bitches can get your filthy Mexican hands on it". Mr Trump leaves behind a wife and some kids, a bunch of shitty wigs probably. I couldn't fucking care.
Till next time.
Big love. Mark. X