It's always nice to get something unsolicited so we jumped at the chance when Cristiano? offered to supply our podcast this month! Already a big fan of his output and with the sound of the brilliant
mix he did for Ransom Note
a few months back ringing in our ears we eagerly took delivery of this new selection.
Currently based out of New York's lower east side where his _Nothing Studio_ is based, Milan native Cristiano? has been steadily building up a head of steam as part of the disparate
'Slow Motion'
crew. A lose collective of DJs, bands, musicians and live acts based between Pescara in Italy and Berlin.
Active since 2005 they've busied themselves organising and appearing at countless events like Wrong Era, Retro Futuro, East Coast Disco, Studio X, Bar Noir, Magic Waves and so on. Playing the best underground dance music, from obscure disco to house, space beats to more cosmic grooves. Showcasing the best of a new generation of Italian producers alongside some serious heavyweights of the scene.
After years of successfully staging these parties the next logical step came in 2009 when the 'Slow Motion Records' label was launched. The idea was to take the time to find the best possible Italian music that represents the sound the collective truly loves and the perfect soundtrack for the events and parties. Since then, alongside it's spin-off label in Berlin, 'Wrong Era', it has set the standard for new wave of Italian dance mus
ic!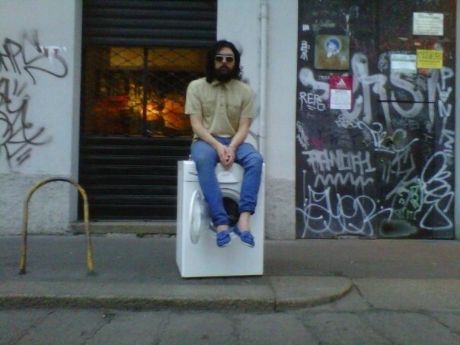 As well as his work with Slow Motion and Wrong Era, Cristiano? has been beavering away making music himself and setting up his studio in New York and establishing a network and label for his own productions.
He's also been busy with a number of other things! His
BALERA FM
project, a live set of movie soundtracks, Italian progressive and psyche rock have material forthcoming and his band, 'Interzone' will be premiering a new EP too. Add to that a book of short stories and two collaborations with what we're promised are actual living legends and you have one very busy boy.
With that in mind, we're more than happy that Cristiano? has taken time out of his hectic schedule to put this brilliantly deep, hypnotic and percussive mix together for us. It really is a blinder!!
_NOTHING_ on Facebook.
Cristiano? on Soundcloud
Slow Motion Records on Soundcloud
Download the podcast from our Hearthis.at account below.
Till next time.
Big love. Mark. X