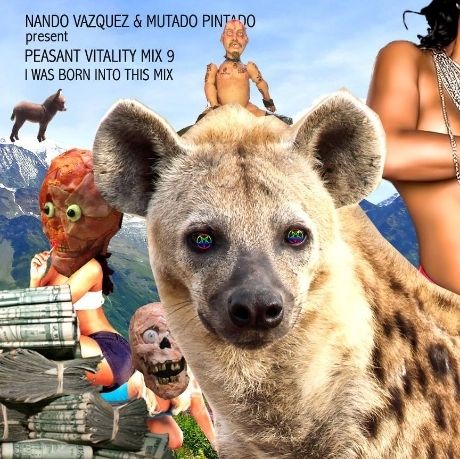 "If you like your music melodic, deep, well-made & produced,,,,, you should probably jog on,"
And so reads the press release for Paranoid London's
debut album.
That statement should give you an idea of the no-fucks-given attitude driving the this outfit. Providing a beer stained and possibly piss stained alternative to glossy house music with rugged acid tracks and intense, fragmented chanting forming the core of their live show. At the center of this maelstrom, looking suitably at home amongst all this is vocalist Mutado Pintado.
In an industry which thrives on the use of multiple faceless, interchangeable frontmen/singers his beguiling delivery of off-the cuff spoken monologues that reimagine LCD Soundsystem's droll tirades as an amphetamine infused Mark E. Smith, stand out proud and very, VERY LOUD.
By all accounts he's a very busy guy, dividing his time between a number of projects as well as Paranoid London such as helming 'Warmduscher' alongside Saul and Jack of Fat White Family, doing lead vocalis in 'Save' with Colder's Marc Nguyen Tan while working diligently on his solo projects. Most recently releasing the killer 'Lazy Boy' 12" on Ivan Smagghe's uber underground 'Les Disques De La Morte' imprint.
'Eclectic' is one of those overused words that musos love to hate, but it would be hard to describe last years Mutado Pintado solo album without letting that pesky adjective sneak in here and there.
Ranging from Hip Hop to Indie to Garage Rock with Pop overtones and Electronica, the rather clinically named '336 W 17th ST' is as multifaceted as it's hard to describe – a musical journey through New York City's underbelly, peppered with potholes, traffic jams, muggings, drug deals and U-turns. Both figuratively and literally.
A music marketeer's worst nightmare due to it's stylistic fluidity as well as the feeling that it doesn't really seem like Pintado gives a flying fuck about marketing flaws, it's scuzzy walls of sound crescendo into a soundtrack for a panic attack, but on the flipside we get moments of real heart, as you can see in the video for 'The Tick'.
You can stream the record over on Soundcloud
and buy it,
as well as his other solo work, on his Bandcamp page.
Anyhow, lets get onto the nuts and bolts of the operation and talk about the mix! I've been digging on Mutado's gear for a few years now and one of the beauty's of doing these podcasts is being able to ask the people who's music you REALLY enjoy to share it with us. Now as much as I like to sit and listen to 2 hours of seamlessly mixed trendy electronica sometimes I want to hear a mix where The Jan Hammer Group rub shoulders with The Butthole Surfers while The Fat White Family chuck stones at Lou Reed and Suicide, and THAT my friends is just the set up we have hear! Nando and Mutado have been putting out
the Peasant Vitality mixtape series
for a good few years now and have been favourites of mine for some time so were obviously going to be folk I wanted to feature in this podcast series and was over the moon to be able to nab them for an installment. So without further ado, I;m overjoyed to give you the brand new Peasant Valley Mixtape from Namdo Vazquez and Mutado Pintado. Turn it up LOUD! X
Till next time.
Big love. Mark. X